Welcome to Chelmsford Jewish Community
Events & Socials
Annually the CJC organises Holocaust Memorial Day on behalf of Chelmsford City Council on or near 27th January. To date, each year we have been fortunate in hearing testimony from a Holocaust survivor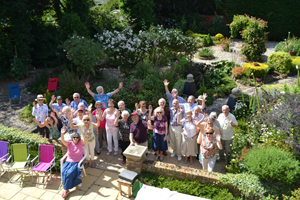 and the commemoration includes a full programme of readings, candle lighting and prayer. It is a major event in the calendar of Chelmsford and always attracts a full hall.
A wide ranging series of CJC social activities takes place regularly to which all members and friends are warmly welcomed. These are held at various locations and include nosh 'n natters (we like to eat), speakers, garden party and outings.
A calendar of events is always included in our bi-monthly newsletter. We are very proud of our newsletter which has, over the years, had widespread acclaim. This contains news, views and articles of interest to our community and guest readers.
There is also a separate Ladies' Guild which has a varied programme of events once a month.